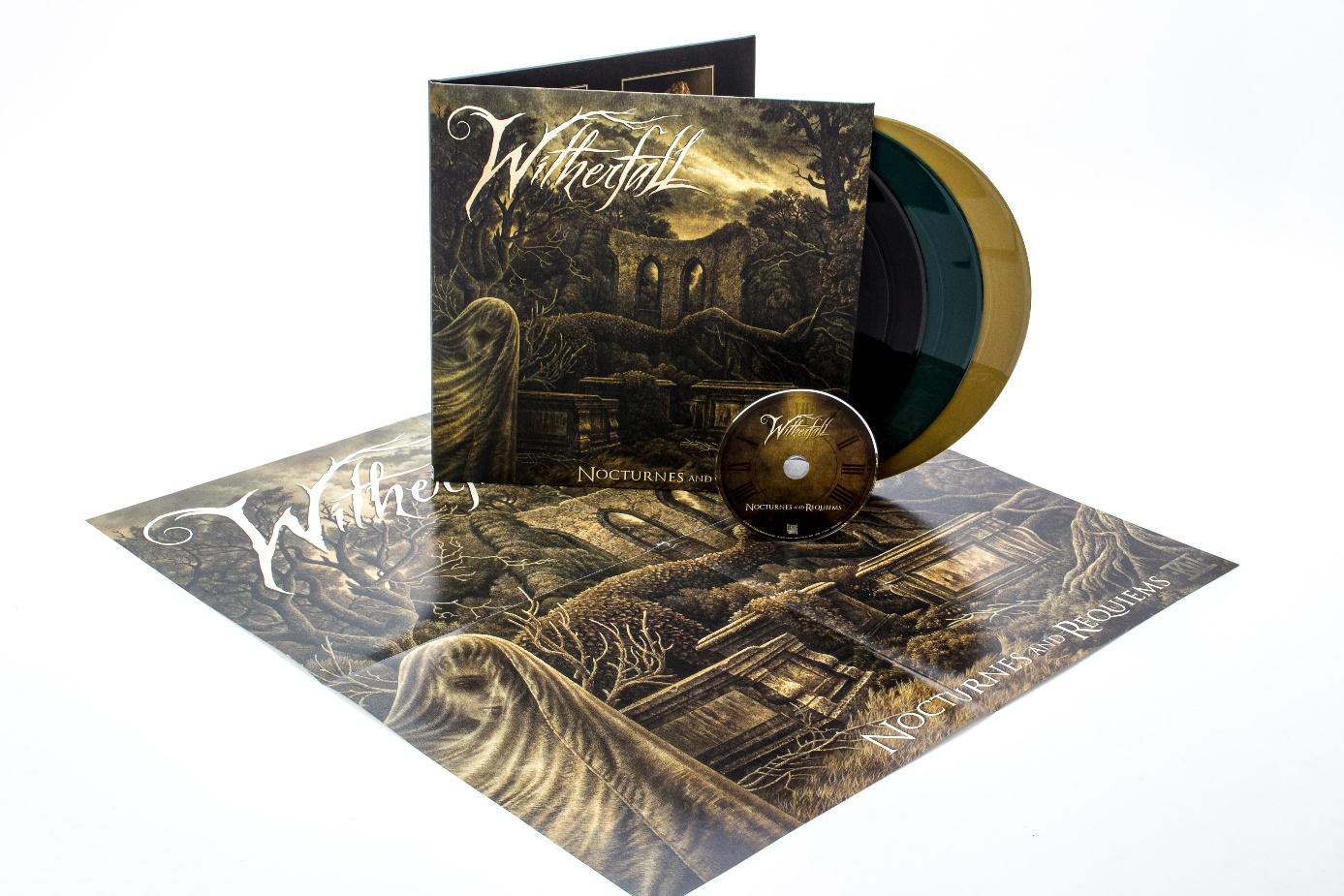 WITHERFALL new live members announced, album out in Europe on October 6th 
                                               "Rounded up by a strong production and a beautiful cover artwork by Kristian Wåhlin, 
                                                                    WITHERFALL present an absolute progressive metal highlight." 
                                                                                                          13/15 points LEGACY 
US dark melodic metal shooting stars WITHERFALL have completed their line up for live activities. After the tragic demise of founding member Adam Sagan, who passed away right before WITHERFALL's debut album "Nocturnes And Requiems" was ready for release, WITHERFALL have taken a well-deserved break of some few months for drumming auditions, finding a replacement for Adam in the highly talented Steve Bolognese, who by strange coincidence replaced Adam Sagan after his departure from the Canadian progressive power/death metal heroes Into Eternity. 
"This is indeed a bitter sweet statement to announce, on one end we are happy to have found a replacement for our late drummer Adam Sagan. On the other side of the coin, we had to find a replacement for Adam. We went through a long period of searching for the right drummer to carry on Adam's contributions to Witherfall. With Steve Bolognese we knew from our first rehearsal and assorted meetings that he was the right fit. Not only does Steve pay respect to the drum parts that Adam recorded on "Nocturnes and Requiems". Steve also shares with Adam an impressive writing ability when it comes to composing his drum parts while we are in the pre-production stages for the follow to "Nocturnes and Requiems". We have also been putting in grueling hours getting our live show dialed in. Expect Witherfall touring announcements very soon." – Witherfall 
Steve Bolognese comments: 
"I am excited to announce that I have recently joined  Century Media Recording Artist Witherfall. As happy as I am to be part of such an incredible band, there are tragic circumstances surrounding the situation, as many may know. Original Witherfall drummer Adam Sagan was a friend of mine. Adam was the original drummer and passed away last year during the final stages of production. Sagan and I both played drums with Into Eternity as well as sharing a lot of the same friends, including Jake and Joseph. Adam would come out to see Into Eternity play every time we came through Minnesota. He remained a great friend. Witherfall was Adam's band along with Jake and Joseph. They formed it. I am going to do my best to carry on with it the way Adam would have wanted. Adam Sagan was an amazing talent and he didn't make "Nocturnes and Requiems"  an easy record to learn to play on drums, but I am going to do my best. Adam Sagan is truly missed by all. See you all on the road soon!" 
Watch Steve's drum playthrough video of the song "What We Are Dying For" here: 
https://youtu.be/U0G7AoaUfZg 
"Fans of virtuoso guitar playing and bands such as Savatage, 
Dream Theater, Symphony X or Into Eternity should check this out!" 
METAL HAMMER 
WITHERFALL have also just announced Fili Bibiano as a second guitar player in the line-up and are ready to return back on stage! Watch out! 
WITHERFALL's critically acclaimed debut album "Nocturnes And Requiems", released in the US earlier this year, will be finally available in Europe on October 6th as limited CD Digipak (with three stickers), deluxe LP (with gatefold sleeve, poster and the entire album on CD) and digitally. 
"…an epochal, truly progressive power metal masterpiece, full of vigour, darkness and energy" 
9,5/10 points DEAF FOREVER 
"Nocturnes And Requiems" can be pre-ordered from the dealer of your choice or directly at CM Distro: 
http://www.cmdistro.de/Artist/Witherfall/1871?Page=1&PageSize=25&Sort=13 
Or in The US visit http://www.witherfall.com/merch
"WITHERFALL play dark US power/progressive metal, with strong compositions and 
flawlessly executed. Fans should definitely take a listen!" 
ROCK HARD 
For the vinyl collectors, "Nocturnes And Requiems" is available in the following colours: 
Black vinyl: unlimited 
Golden vinyl: limited to 100 copies, exclusively offered at CM Distro Europe --- LAST COPIES 
Dark green vinyl: limited to 200 copies, available at various online mailorder stores 
"Nocturnes And Requiems" tracklist: 
Portrait (6:36) 
What We Are Dying For (6:54) --- watch Jake Dreyer's playthrough video here 
Act II (0:54) 
Sacrifice (8:59) 
The Great Awakening (3:24) 
End Of Time (9:36) --- watch the lyric video here 
Finale (1:49) 
Nobody Sleeps Here… (8:49) 
WITHERFALL line-up: 
Joseph Michael – vocals 
Jake Dreyer – guitars 
Anthony Crawford – bass 
Fili Bibiano – guitars 
Steve Bolognese – drums 
WITHERFALL online: 
https://www.facebook.com/witherfall/ 
https://www.witherfall.com/ 
Century Media Records online: 
www.centurymedia.com 
www.youtube.com/centurymedia 
www.twitter.com/centurymediaeu 
www.facebook.com/centurymedia 
http://gplus.to/centurymedia 
Century Media webshop: 
www.cmdistro.com